ABCD

80's Metal Bands

Accept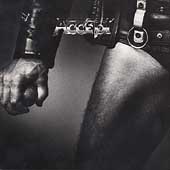 These are the album titles from left to right: 1979 Accept, 1980 I'm a Rebel, 1981 Breaker, 1982 Restless & Wild, 1983 Balls to the Wall, 1985 Metal Heart, 1986 Russian Roulette, 1989 Eat the Heat, 1990 Staying A Life, 1992 Objection Overruled, 1994 Death Row, 1996 Predator

This band was from Germany and broke up in 1997. Udo has reformed a band of his own called U.D.O. The last line-up was Udo Dirkschneider, Wolf Hoffman, Peter Baltes, and Michael Cartellone

Agent Steel







These are the album titles from left to right: 1985 Skeptics Apocalypse, 1985 Mad Locust Rising (EP), 1987 Unstoppable Force, 1999 The Omega Conspiracy

Agent Steel was formed in the early 80's in San Francisco at the time of 1985 and 1987. They were one of the best power metal bands around. The band later broke up in 1988 and then reformed ten years later. The current lineup is Bruce Duncan-Vocals, Juan Garcia-Guitars, Bernie Versailles-Guitars, Karl Medina-Bass, Chuck Profus-Drums.

Agnostic Front







These are the album titles from left to right: 1983 United Blood, 1984 Victim In Pain, 1986 Cause For Alarm, 1987 Liberty and Justice For..., 1992 One Voice, 1998 Something's Gotta Give

This is an 80's hard core/metal band. They started out in 1982 by Vinnie Stigma. They released five albums in their time plus their first, which is an EP. The last album, "One Voice", released in 1992, had the best sound. It was also written while the singer, Miret, served a two year sentence. The band's origional line-up in 1983 was Roger Miret, Vinnie Stigma, Adam Moochie, and Raybeez.

The Trooper's Review:
The "One Voice" album is very good.

"Something's Gotta Give" is my favorite Agnostic Front album and I think Its their best.

Alcatrazz







These are a list of the album titles from left to right: 1983 No Parole from Rock N Roll, 1984 Live Sentence, 1985 Disturbing the Peace

This band never ammounted to much it did provide training for the two best guitarists of the 80's, Yngwie Malmsteen and Steve Vai. "Disturbing the Peace" was a Japanese import that had Steve Vai replacing Malmsteen so the album has more of a Vai sound to it. In 1983 the line-up was Graham Bonnet, Yngwie Malmsteen, Gary Shea, Jan Uvene, and Jimmy Waldo.

Anacrusis







These are the album titles from left to right: 1988 Suffering Hour (Not Shown), 1989 Reason (Not Shown), 1991 Manic Impressions (Not Shown), 1993 Screams and Whispers

Anacrusis was a progressive thrash metal band from Missouri, USA that had a unique style of music that was very different from bands at that time. The last lineup was Kenn Nardi-Vocals/Guitars, Kevin Heidbreder-Guitars, John Emery-Bass, and Paul Miles-Drums.

Angel Dust







These are the album titles from left to right: 1986 Into the Dark Past, 1988 To Dust You Will Decay, 1998 Border of Reality, 1999 Bleed, 2000 Enlighten the Darkness, 2002 Of Human Bondage

This band was formed in the mid 1980's and are from Germany. They put out two albums and then broke up. Then they reformed in the late 1990's and have now become one of Europe's best power metal bands around. The current lineup are Dirk Thurlsch-Vocals, Ritchie Wilkison-Guitars, Frank Bany-Keyboards, Dirk Assmuth-Drums.

Angel Witch



These are the album titles from left to right: 1980 Angel Witch (Not Shown), 1985 Scremain & Bleedin (Not Shown), 1986 Frontal Assault (Not Shown), 2000 Resurrection (Not Shown)

Angel Witch was from England and one of the first NWOBHM bands. Their first self-titled album is a metal classic to this day. The band later broke up and now has reformed and are making an all new album and going on tour. The current lineup is Kevin Heybourne-Guitars/Vocals, Keith Herzberg-Guitars, Ritchie Wicks-Bass/Vocals, Scott Higham-Drums.

Annihilator







These are the album titles from left to right: 1989 Alice In Hell, 1990 Never, Neverland, 1993 Set the World on Fire, 1994 King of the Kill, 1996 Refresh the Demon, 1996 Remains, 1999 Criteria for a Black Widow, 2001 Carnival Diablos

Annihilator was formed in the late 80's in Canada and are one of the most well known thrash metal bands from Canada and the US. Their last album "Carnival Diablos" is one, if not their best album to date. The band is still active and the current lineup is Joe Comeau-Vocals, Jeff Waters-Guitars, Dave Scott Davis-Guitars, Russell Bergquist-Bass, Randy Black-Drums.

Anthrax






In 1981 Scot Ian formed Anthrax along with Dan Spitz, Neil Turbin, Dan Lilker, and Charlie Benante. The first album, "Fistful of Metal" was released in 1983. After the first album Neil and Lilker were replaced by Joey Belladonna and Frank Bello. The second album, "Spreading the Disease" came out in 1985 and was their first release on a major label. The third album "Among the Living" came out in 1987. Then a fourth album in 1988 was released called "State of Euphoria". In 1990 "Persistence of Time" was released and afterwards Joey was kicked out of the band and replaced by John Bush. The next album "Sound of White Noise" was released in 1993 with Elektra Records. This album was very different from their usual sound. Dan Spitz left the band and in 1995 "Stomp 442" was released. After this album Elektra Records dropped the band. They are currently looking for a new record label and working on a new album.

The Trooper's Review:
"Spreading the Disease" and "Among the Living" really jam and should be classic metal albums.
The albums, "Sound of White Noise" and "Stomp 442" is also two of their great 90's albums and is heavy and powerful. It's two of the best 90's metal albums.

Anvil






These are the album titles from left to right: (not shown)1981 Hard N Heavy, (not shown)1982 Metal on Metal, (not shown)1983 Forged in Fire, 1987 Strength of Steel, (not shown)1988 Pound for Pound, 1991 Worth the Weight, (not shown)1996 Plugged In Permanent, 1997 Absolutely No Alternative

A Canadian speed metal band that is currently still together. The current line-up is: Steve Kudlow, Ivan Hurd, Glen Gyorffy, and Robb Reiner.
Armored Saint







These are the album titles from left to right: 1983 Armored Saint(the rare EP), 1984 March of the Saint, 1985 Delirious Nomad, 1987 Raising Fear, 1991 Symbol of Salvation, 2000 Revelation

The band formed in 1981 and was really popular in the Los Angeles area. Dave Prickard died of Leukemia before the recording of "Symbol of Salvation". Then Bush left to join Anthrax. The original line-up was Joey Vera, Phil Sandoval, Dave Prickard, John Bush, and GONZO.

The Trooper's Review:
The new album "Revelation" has to be the best album they have ever created. This is a bad-ass metal album and John Bush is at his greatest.